Officials briefed on latest flood forecast | News
NORTH LITTLE ROCK, Ark. (KTHV) - Experts say it will take weeks for the floodwaters to recede after the recent storms that hit towards the end of December.
Wednesday morning emergency managers gathered to get the latest information from the National Weather Service.
It was all hands on deck at the Arkansas Department of Emergency Management Headquarters Wednesday. State officials, the National Weather Service and the Corps of Engineers held a conference call with emergency coordinators from around the state.
ADEM Director David Maxwell reminded everyone to plan ahead.
"Just a reminder to think ahead. You know what the crests are going to be, so as you're watching that, please think about what it's going to cause and what you might need," explained Maxwell.
Tabitha Clarke, senior hydrologist with the National Weather Service in Little Rock, led the briefing with the latest flood forecast.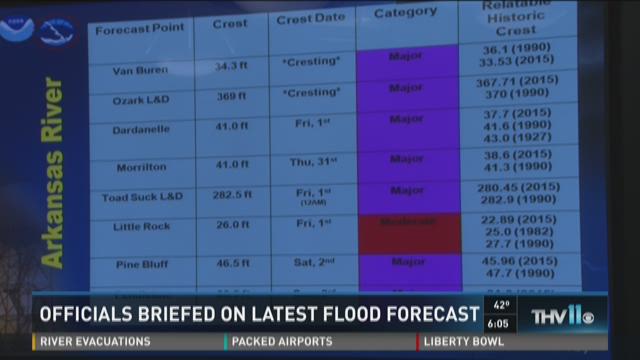 "Had to push it to 282.5 that one is not cooperating. I'll show you a map showing the tributaries right around there that are just still bringing a lot of water in the Arkansas River above Toad Suck," said Clarke.
Clarke also stated that area will crest as the ball drops on New Year's Eve. "Specifically along the Arkansas River right now. The worst of it is approaching Toad Suck.
Clarke said downstream, Little Rock will crest at nearly 26 feet on Friday, and Pine Bluff at 46.5 feet on Saturday.
"We're looking at several weeks of flooding. It's going to take a long time for that water to recede, and we haven't even seen crest along half the state."
Clarke believes that it's not just the Arkansas River that's causing most of the problems. "We've got the lower White. All the eastern Arkansas areas, that area little bit flatter, they're going to be in flood for longer."
Clarke added that this time of year is also aggravating the flood situation. "There's no vegetation to help alleviate some of this water problem."
Another briefing will be held at 11 a.m. Thursday, Dec. 31. The public can follow along via periscope through the ADEM's Twitter (@AR_Emergencies).
• Click here for AHTD's list of current road closures in Ark. http://on.kthv.com/1YTmvCq
• Photos: Flooding in Arkansas this week http://on.kthv.com/1YThWI4
• LIST: Weather situations in Ark. 12/23 - present http://on.kthv.com/1YTsOpv
• Faulkner Co. official shares river crest time, sandbag staging areas http://on.kthv.com/1QZyY8n
• LIST: Disaster areas as declared by Gov. Hutchinson http://on.kthv.com/1OvkkVW
• LIST: Arkansas River crest dates, times http://on.kthv.com/1QZBWts